How to enable Playing game mode in HDML-Cloner Pro helper?¶
What is 'Playing game mode'?¶
When we play the game, we need a quick refresh of the screen to ensure that the gamepad buttons respond quickly. To achieve this, the Pro Helper software sets the FPS of the Capture device to the highest and selects a fast Picture Render engine. These operations only need to be done with one click to open the game game mode.
Prepare software and device¶
Capture device: ClonerAlliance Flint LX, or ClonerAlliance Flint LXT, or ClonerAlliance Flint 4KP, ClonerAlliance Flint 4KP Plus or ClonerAlliance Chert 4KC.
Steps of enable 'Playing game mode'¶
Connect capture device to USB 3.0 port of computrer.

Launch HDML-Cloner Pro helper software, click on the 'View mode selection' button of main window. Then click 'Playing game mode'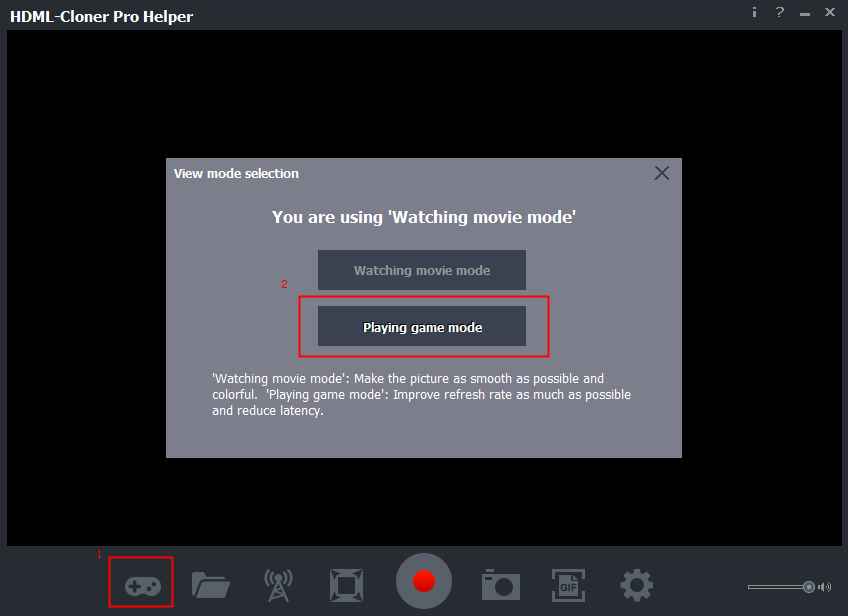 Possible problems¶
Could not find 'view mode selection' button
This is because the device is not properly connected to the USB3.0 port of your computer, please reconnect the capture device.
---