Portable, analog-to-digital converter, MP3 audio recorder, advanced digitization chip, and 1080p upscaler.
---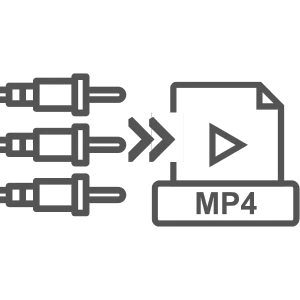 Standalone Analog to Digital Converter
Converts analog videos to digital video files(MP4/H.264). No PC is required.
Supports Composite/RCA/S-Video signals capture.
Compact and portable design, perfect for on-the-go use. Built-in 3.0" LCD screen with 640x480 high resolution for instant video monitoring.
The playback function allows for instant viewing of recorded content.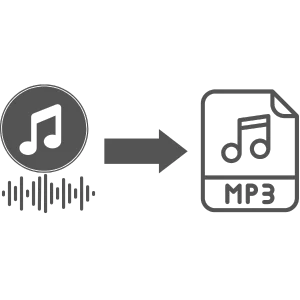 Audio to MP3 Recorder
Converts audio signals into high-quality MP3 format.
Features an MP3 playback function.
Compatible with all 3.5mm audio output devices.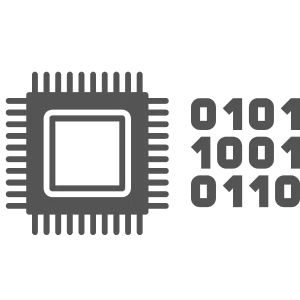 Next-Gen Digitization Chip
Equipped with an up-to-date encoder core for superior performance.
Upscales analog videos to high-definition 1080p for an enhanced viewing experience.
Offers faster encoding speed, minimizing lag and delay.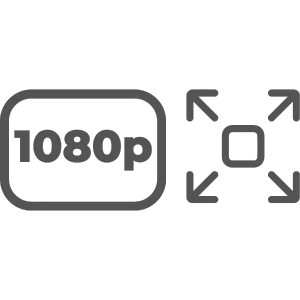 Plug and Play
Plug and play functionality - no complicated setup needed.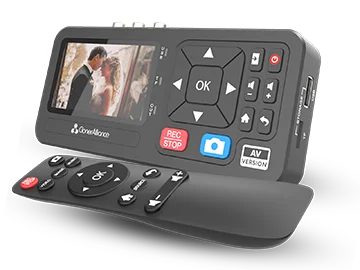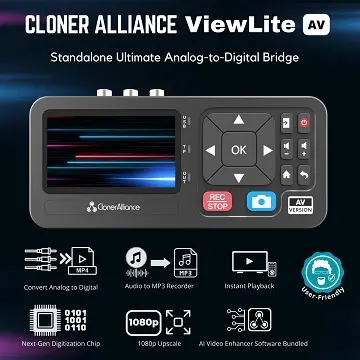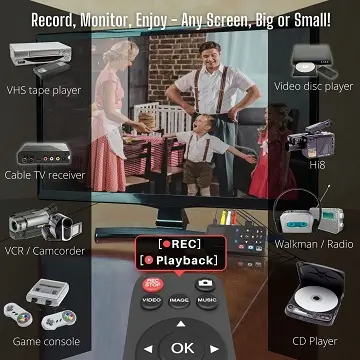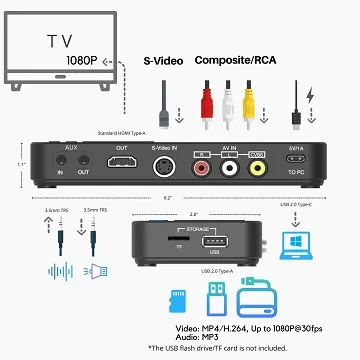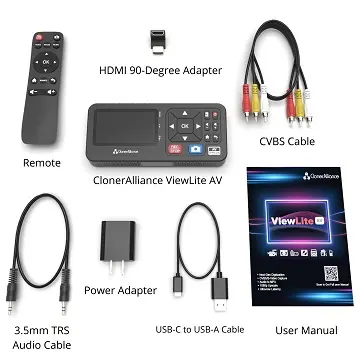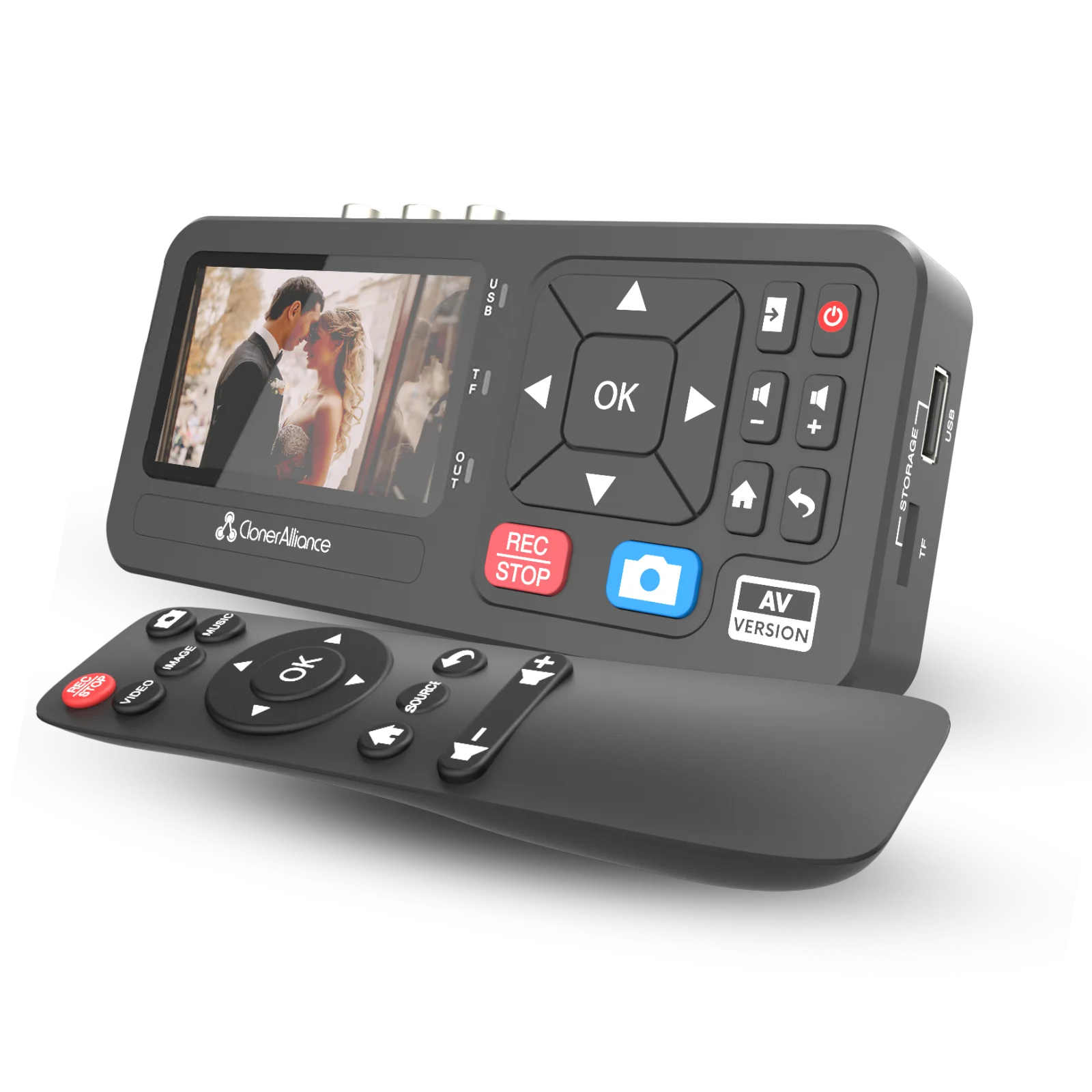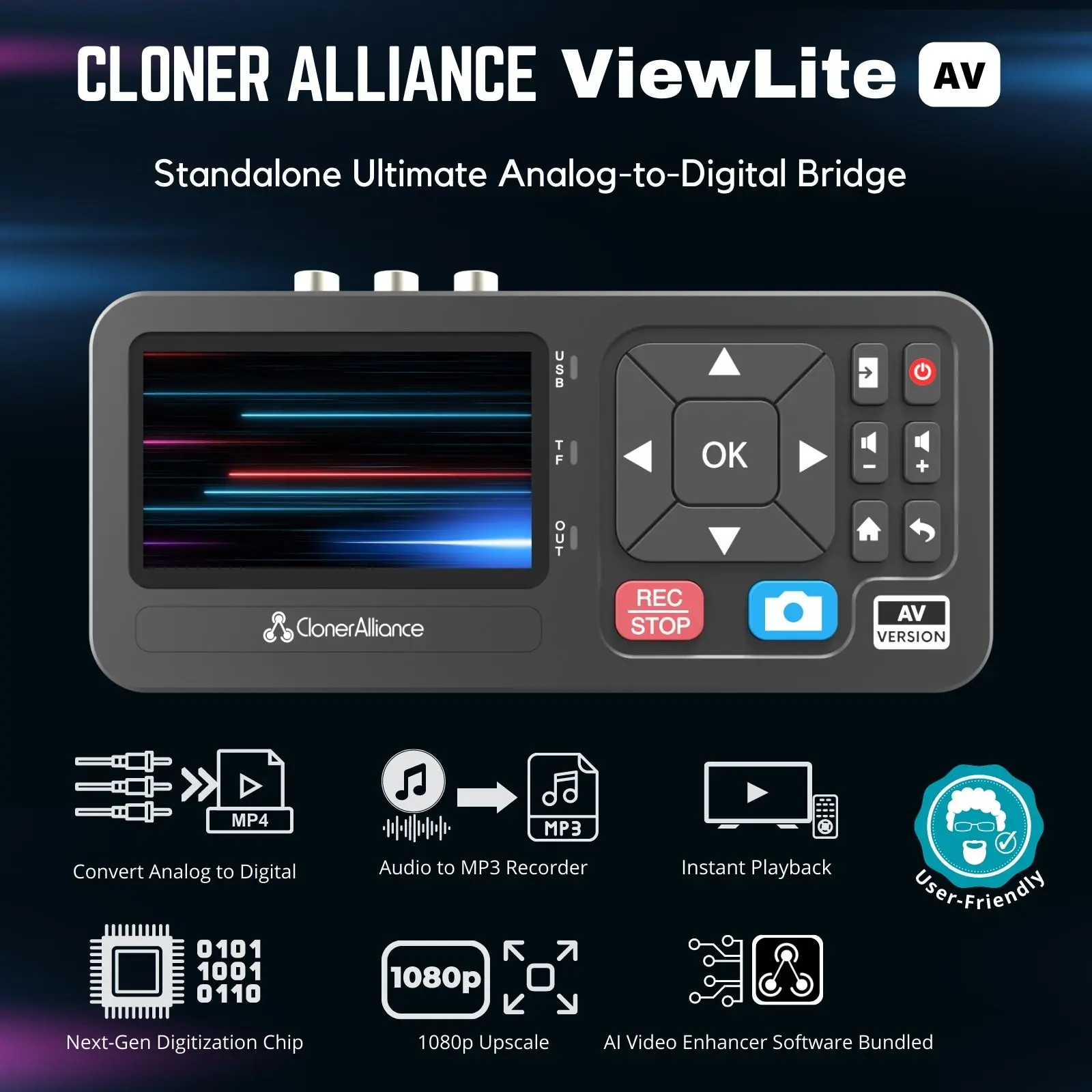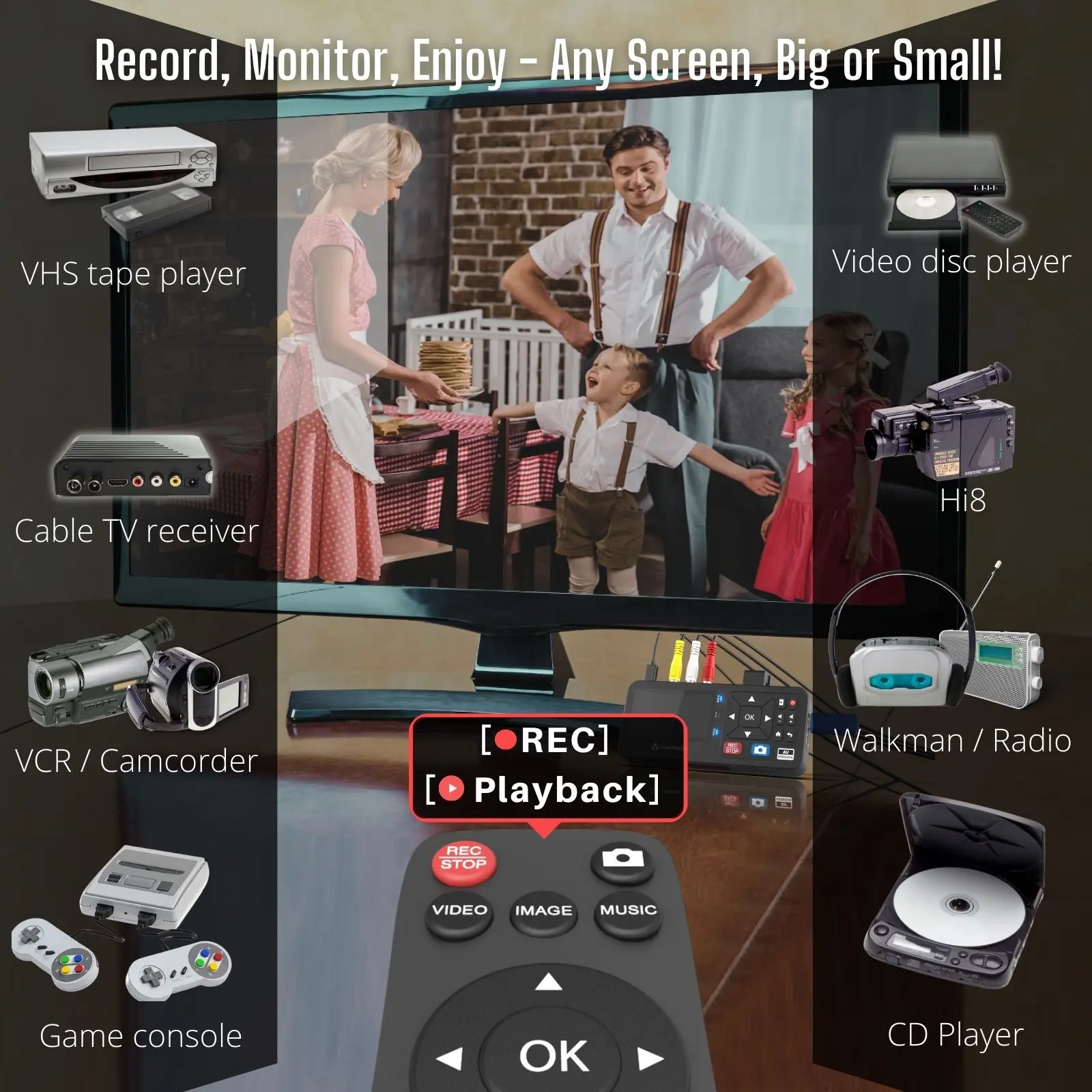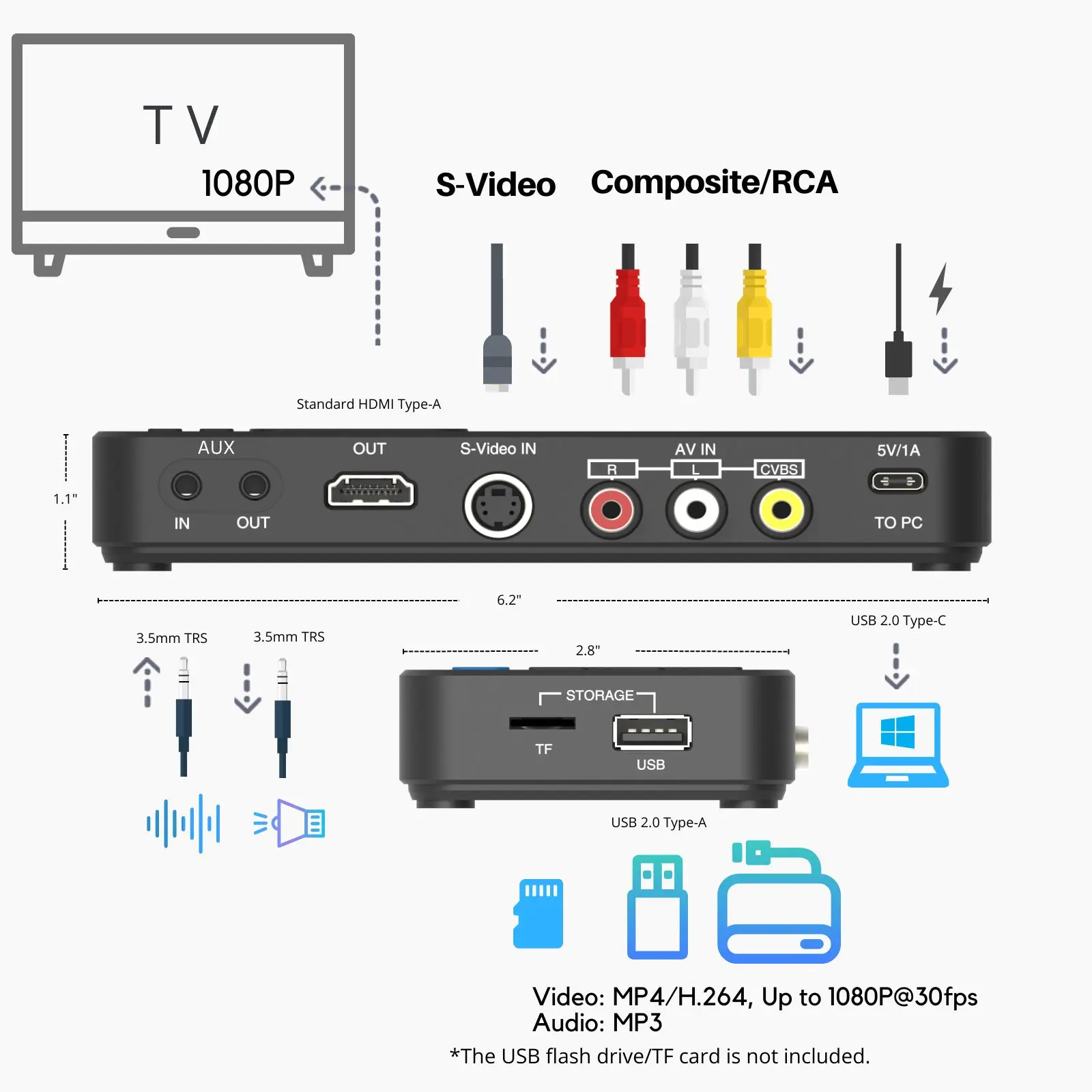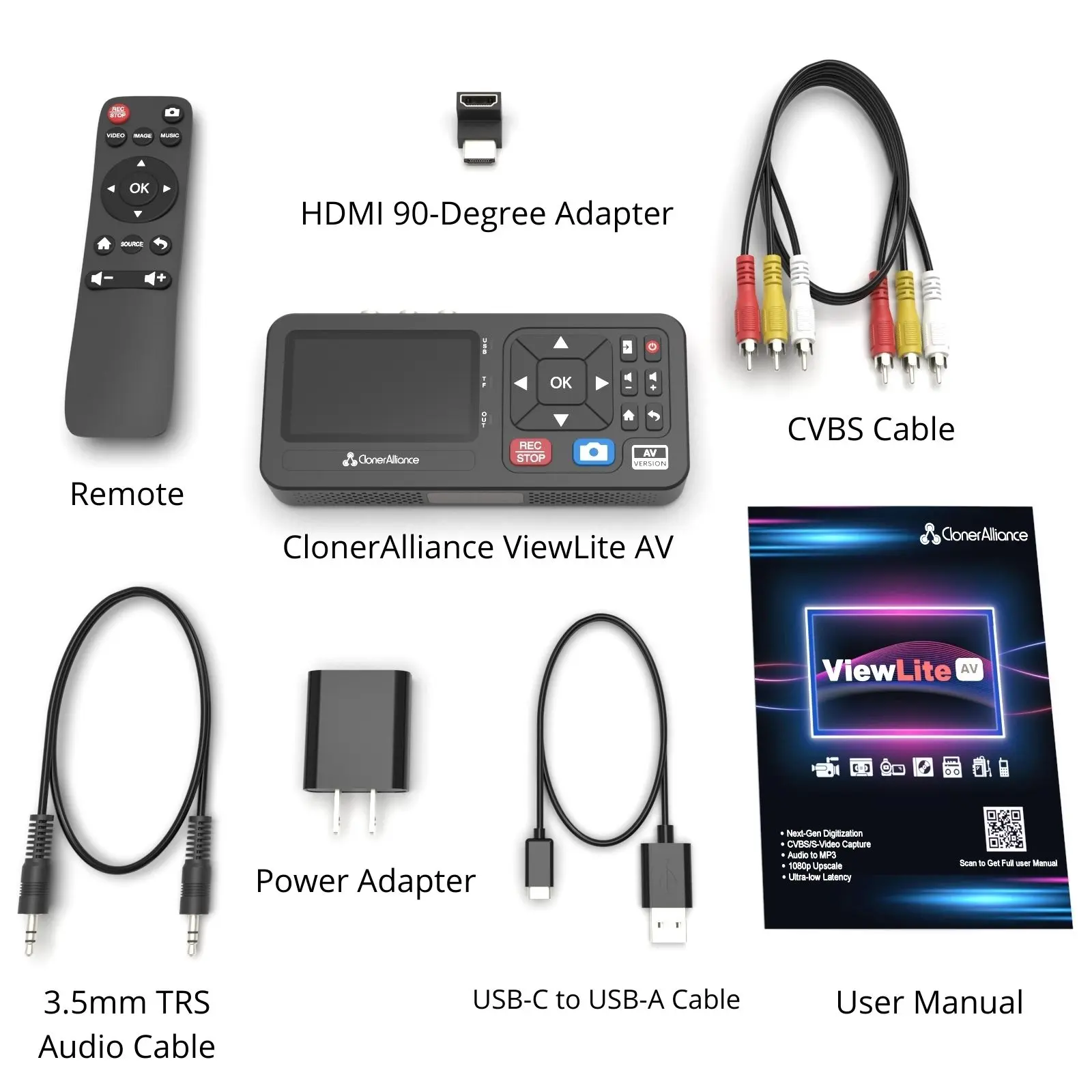 Introducing ClonerAlliance ViewLite AV, the perfect solution to digitize and preserve precious analog memories. This user-friendly, all-in-one standalone recorder and converter features a 3.0" LCD screen and seamless compatibility. Breathe new life into VHS tapes, camcorders, and retro gaming consoles with stunning clarity. Easy to use and energy-efficient, ViewLite AV is the ultimate bridge between past and present for everyone.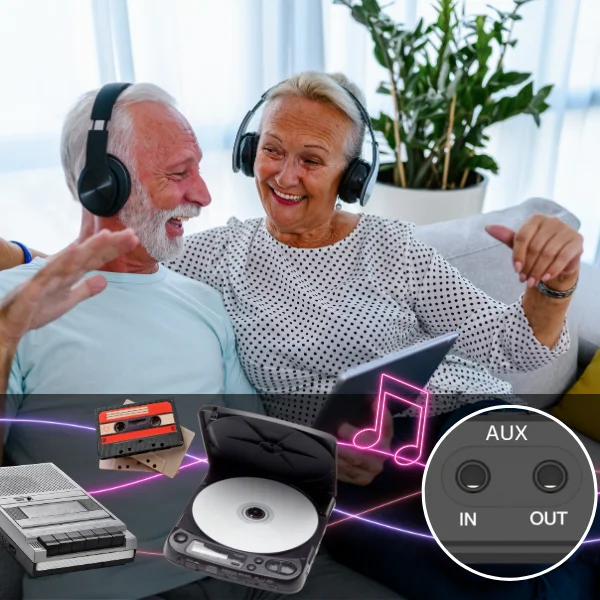 Preserve Unique Music with ClonerAlliance ViewLite AV
ClonerAlliance ViewLite AV lets you digitize your precious music collection seamlessly. Supporting CD players, cassette players, and radio receivers, it converts your favorite songs into high-quality MP3 files. With a 320Kbps sampling rate, it keeps the original audio quality intact, making it perfect for classical and retrospective music preservation.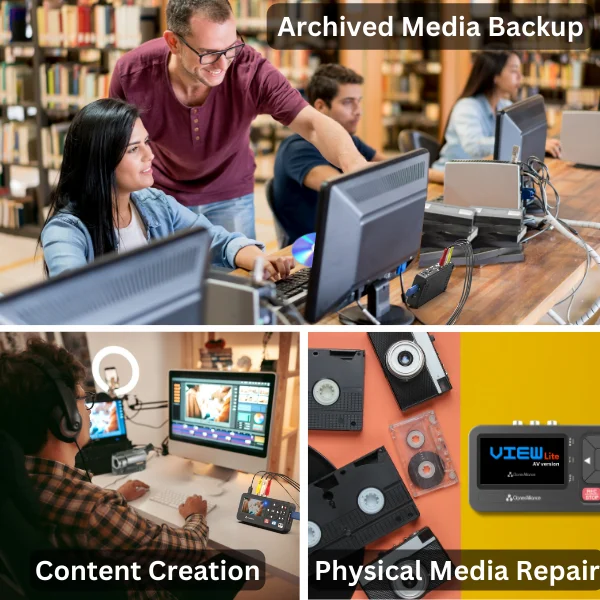 Versatile Usage of ClonerAlliance ViewLite AV
With ClonerAlliance ViewLite AV, you can conveniently digitize physical media across diverse scenarios - whether it's archiving backups in a library, creating video content, or repairing old physical media. As a standalone device, it eliminates the need for a PC, providing user-friendly functionality for various tasks.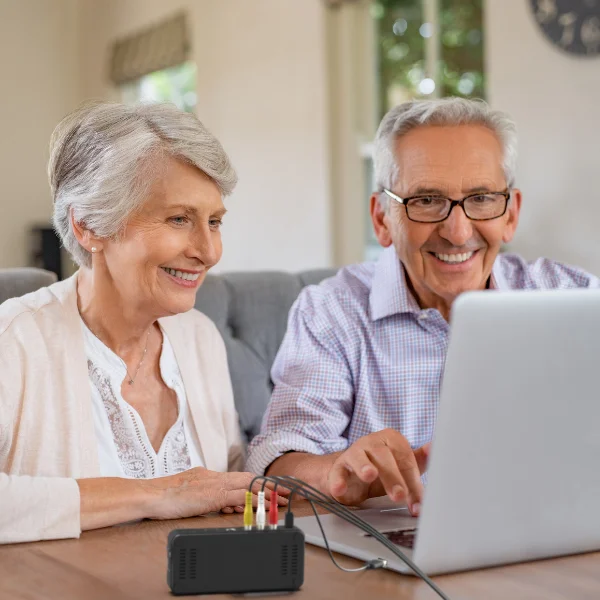 Do More with Your PC
Utilize ClonerAlliance ViewLite AV for live streaming, file transfer, and recording on your PC. Its user-friendly bundled software and direct TF card-to-PC file transfer offer a seamless experience. Everyone can easily get started.
Windows system is required.

Mac/Linux is NOT supported with PC MODE.
Versatile Recording, Viewing and Digitizing of Precious Memories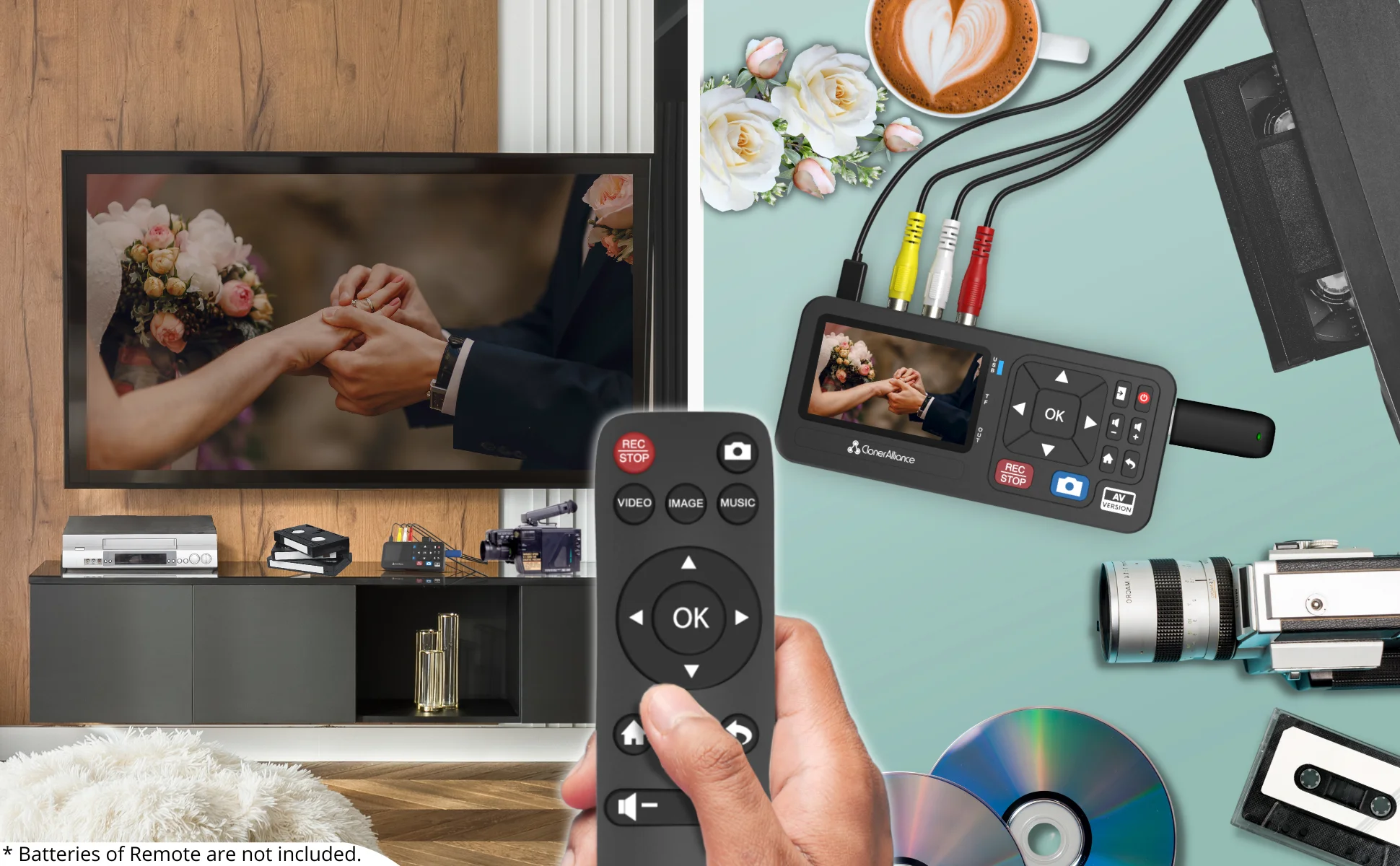 With ClonerAlliance ViewLite AV, experience the flexibility of monitoring your recording on a built-in 640x480 high resolution LCD screen or on your big screen TV via HDMI output. Its portable nature makes it perfect for use anywhere, while its compatibility with TV ensures clear viewing when needed. Plus, its user-friendly remote control suits both scenarios. Most importantly, this device is perfect for digitizing and preserving precious memories, like wedding videos, that are trapped in analog formats such as VHS, VCR, or Hi8. With ClonerAlliance ViewLite AV, ensure your treasured moments are saved forever.
High-Quality Analog to Digital Conversion and Recording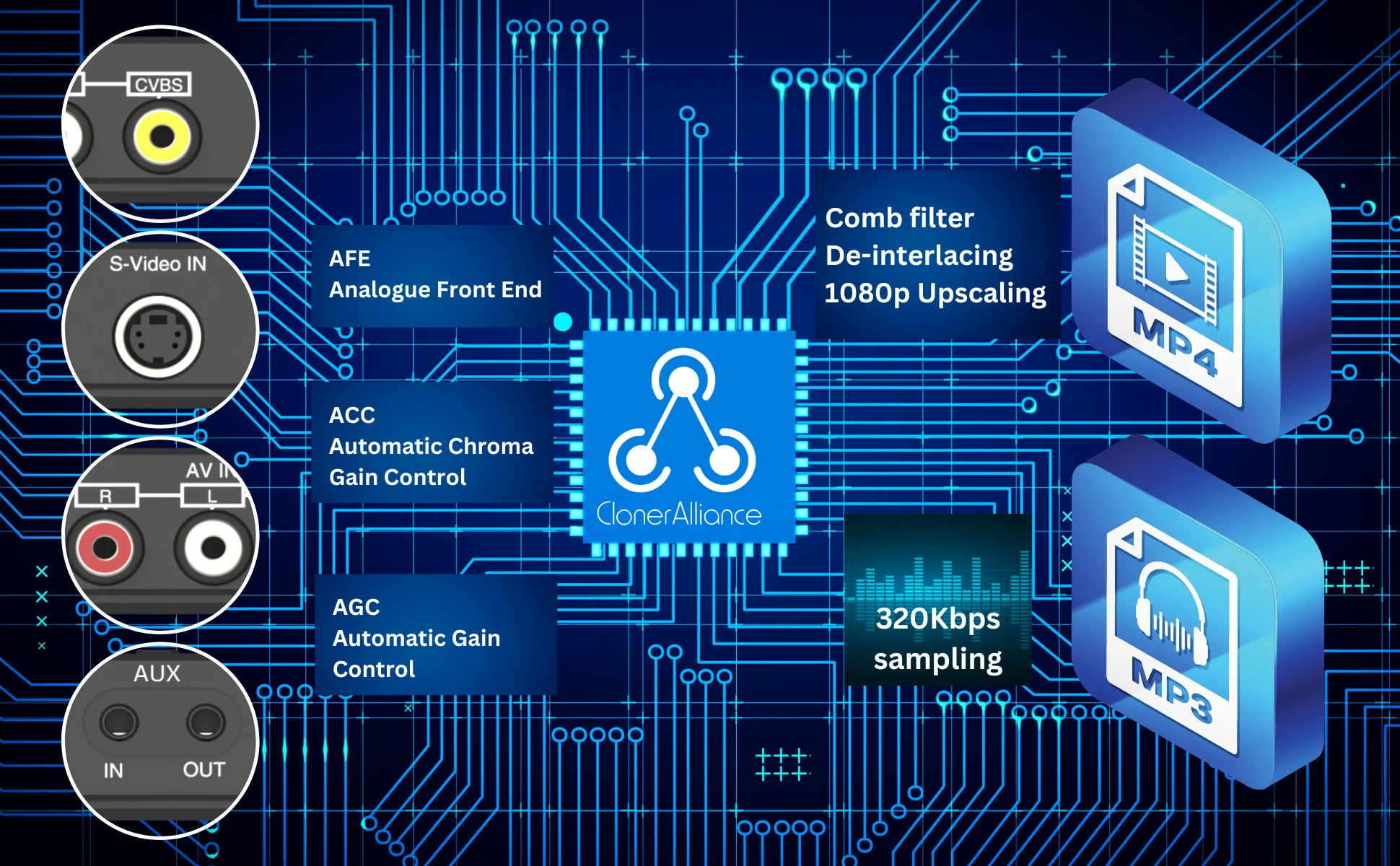 Embrace superior conversion with ClonerAlliance ViewLite AV, armed with a Next-Gen Digitization Chip and advanced 3A technology:
Analogue Front End (AFE) for precise signal handling
Automatic Gain Control (AGC) for optimal signal strength
Automatic Chroma Gain Control (ACC) for enriched color
This device deftly transforms analog videos to high-quality MP4 and audio to MP3. It supports multiple analog inputs and utilizes comb filtering and de-interlacing for 1080p MP4 encoding, while maintaining a 320K bps sampling rate for MP3 encoding, preserving your cherished memories with precision.
Learn more about ClonerAlliance ViewLite AV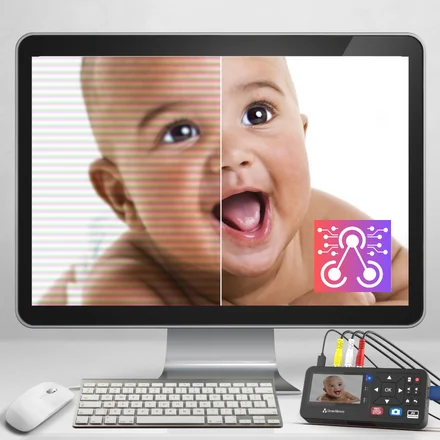 Revitalize Memories with AI Enhancement
Unleash the potential of your analog videos with ClonerAlliance ViewLite AV's bundled AI video enhancer software. Perfect for denoising, deinterlacing, upscaling, color enhancement, and sharpening, it breathes life back into your precious memories. It's straightforward and user-friendly, converting your vintage footage into vibrant, high-definition keepsakes.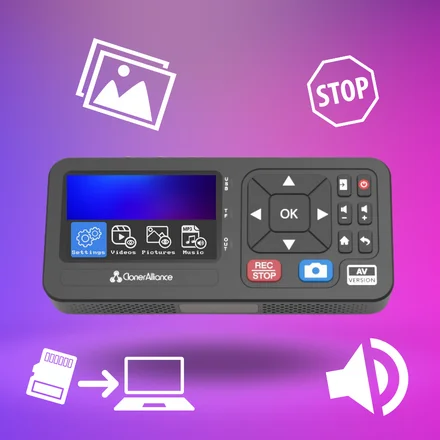 User-Friendly Interface, Extra Perks
ClonerAlliance ViewLite AV goes above and beyond with its intuitive OSD interface and a roster of more features. Make capturing still images a breeze with snapshot function, ensure ideal recording duration with auto-stop, listen directly via a built-in speaker, and swiftly transfer files to your PC.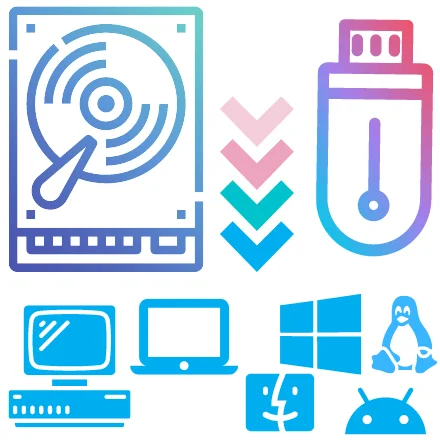 Supports exFAT, NTFS, FAT/FAT32, MBR,GPT
Not only is it compatible with GPT and MBR partition structures, it can also write MP4 files to exFAT, NTFS, FAT/FAT32 file systems. Whether you are using a projector, 4K UHD TV or a PC system (Windows, Mac OS, Android, Linux), the recorded MP4/MP3 video files can be played and safely saved forever.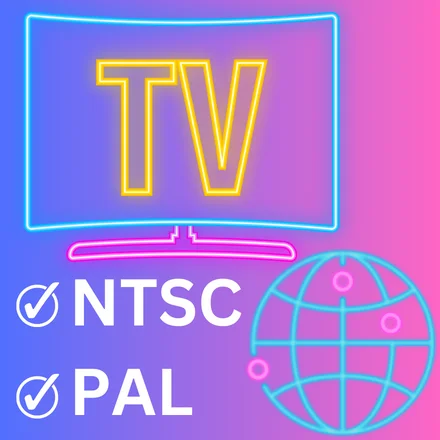 Universal Compatibility, Global Accessibility
Accommodating both NTSC and PAL analog video signals, ClonerAlliance ViewLite AV serves as an all-inclusive solution for customers worldwide. The device effortlessly digitizes your cherished analog videos, making the past accessible and compatible with the digital present, no matter where you are.
More reasons to have ClonerAlliance ViewLite AV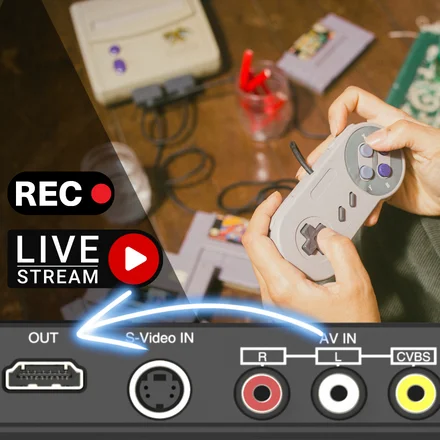 Ultra-Low Latency, Uninterrupted Fun
ClonerAlliance ViewLite AV champions an ultra-low latency of less than 20ms, enabling it to pass through analog video signals to your TV without any noticeable delay. It's the perfect solution for retro game recording, live streaming, or video conferencing, ensuring a seamless and fun experience.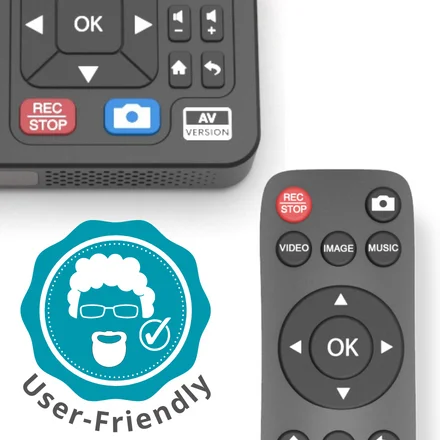 One-Press Simplicity for Everyone
No matter your age, ClonerAlliance ViewLite AV ensures a user-friendly experience with its simple, one-button recording and screenshot features. Its big, clear buttons and availability of remote control make it effortless to use. Preserve your cherished memories with one simple press.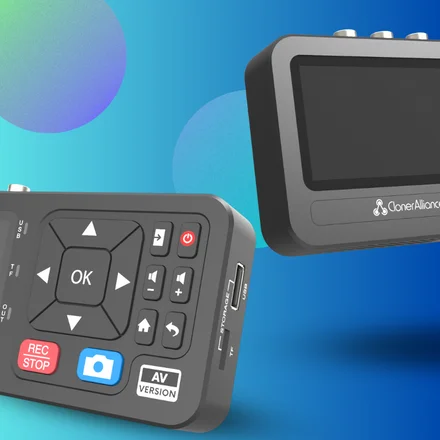 Sleek, Durable, and Portable Design
ClonerAlliance ViewLite AV showcases a sleek design that blends durability and convenience. It features a protected LCD screen, offering anti-reflection, anti-glare, anti-scratch, anti-explosion, and fingerprint-resistant properties. Weighing less than 190 grams, this lightweight device is perfect for one-handed use.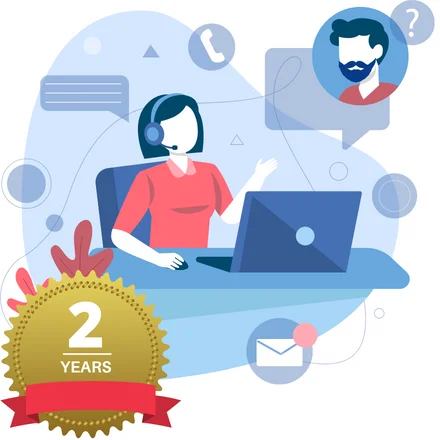 Long-term Service
We provide 90-Day No Hassle Return (at our cost) and 2-Year replacement Service.
A longer service period gives you more peace of mind while using our products.|
Technical Specifications
| Specification | |
| --- | --- |
| Video Recording Resolutions | Up to 1920x1080 (30fps) for NTSC or 1920x1080 (25fps) for PAL |
| HDMI Output Resolution | Max 1080p@60fps |
| Max Encoding Bitrate | 8Mbps |
| Passthrough Latency | Less than 20ms |
| Analog Video Input Formats | NTSC, PAL,PAL-60 |
| Recording Aspect Ratios | 16:9; 4:3 |
| Analog Video Input Resolutions | RCA/Composite/S-Video Input: 480i(NTSC)/576i(PAL) |
| Analog Audio Input | 3.5mm TRS, L/R RCA, 2-Channel Stereo |
| Encode Formats | MP4/H.264, MP3 |
| Compatible File System | FAT32,NTFS,exFAT. MBR,GPT |
| Maximum Storage Capacity | 8TB |
| Compatible Video Sources | Hi8 camcorders, VHS Players, VCRs, Camcorders, Set top Boxes, Cable TV,Receivers, TV Tuners, DVD/VCD Players, Game Consoles, Cassette players, Walkman, AM/FM radios |
Service
---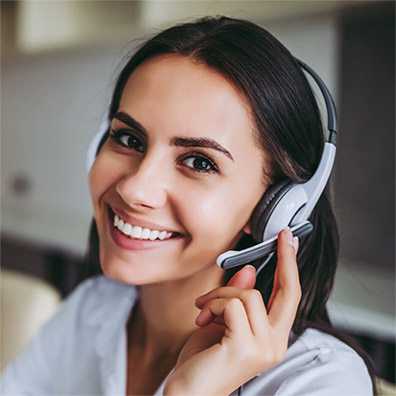 Responsive Technical Support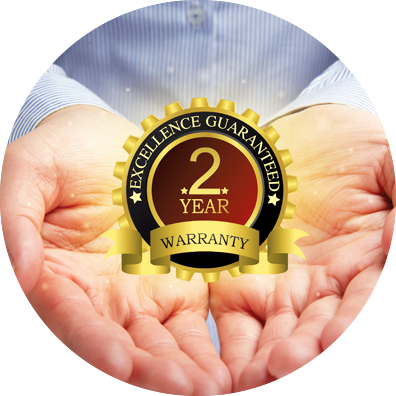 2-Year Warranty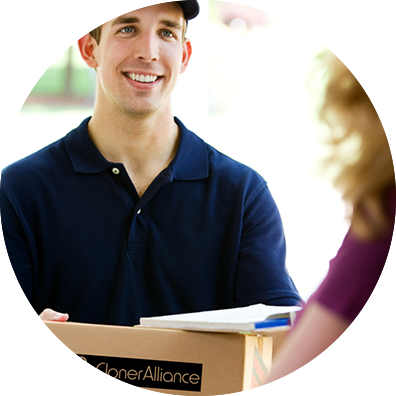 Free Shipping