How to use ClonerAlliance Flint LXT to record or livestream videos on Windows?¶
OBS Studio is a popular open source software for video recording and live streaming. If you want to livestream on Windows system, please follow the steps below:
Connection Guide:
IN: Connect an HDMI cable between the source video player and ClonerAlliance Flint LXT.

Connect the USB3.0 cable between ClonerAlliance Flint LXT and a Windows computer.
Install Software:
Please download Windows version of OBS at: https://obsproject.com/
Getting Started:
Launch OBS Studio software on PC, Click "+" icon under "Sources" window, and select "Video Capture Device".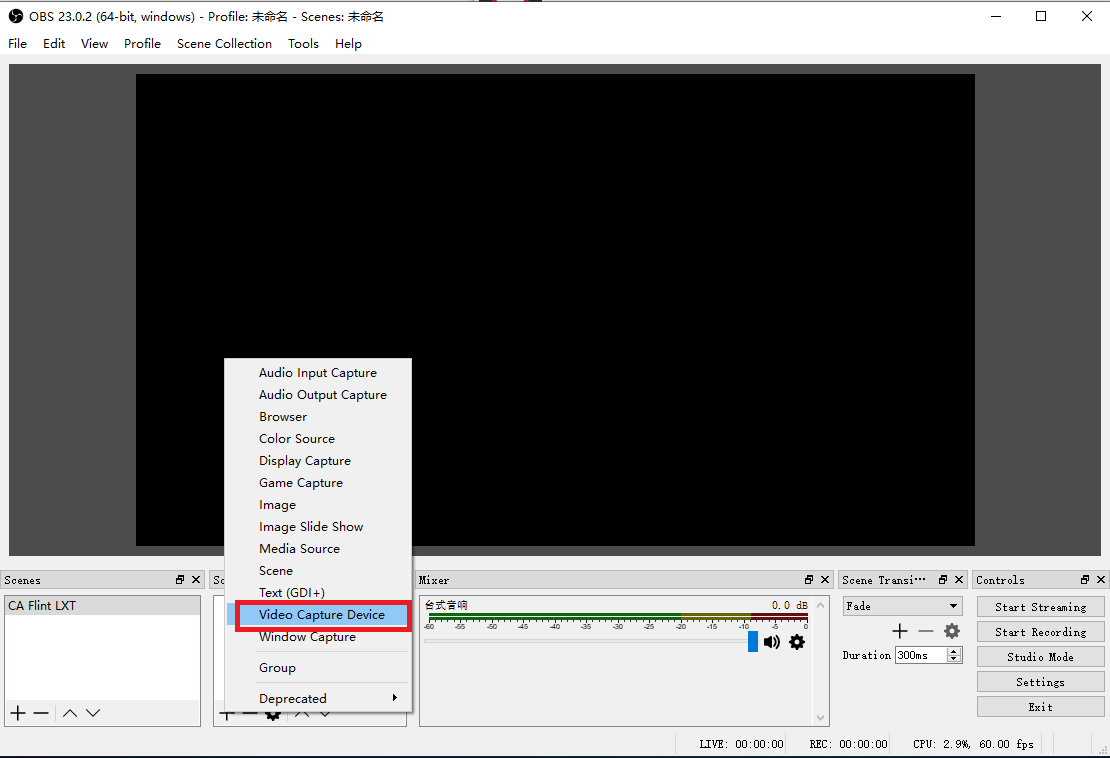 Select "CA FLINT LXT video device", then you can see the picture as below.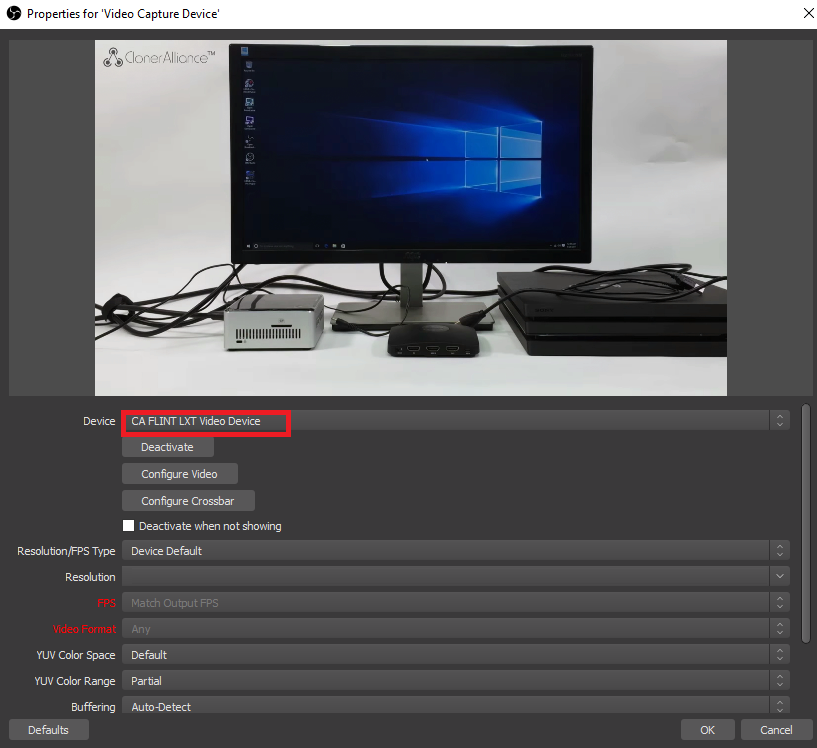 Please select "Output desktop audio (DirectSound), check on "Use custom audio device", select Audio Device to "Digital Audio Interface(CA FLINT)". Please make sure you adjust the setting here, or you may not hear the audio.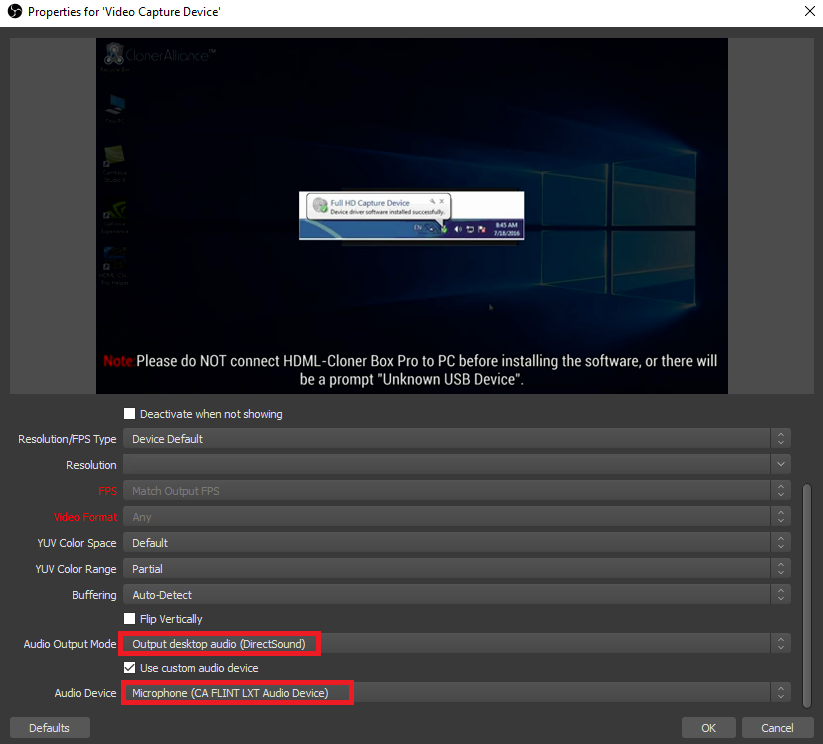 Now you can start recording/livestreaming anytime.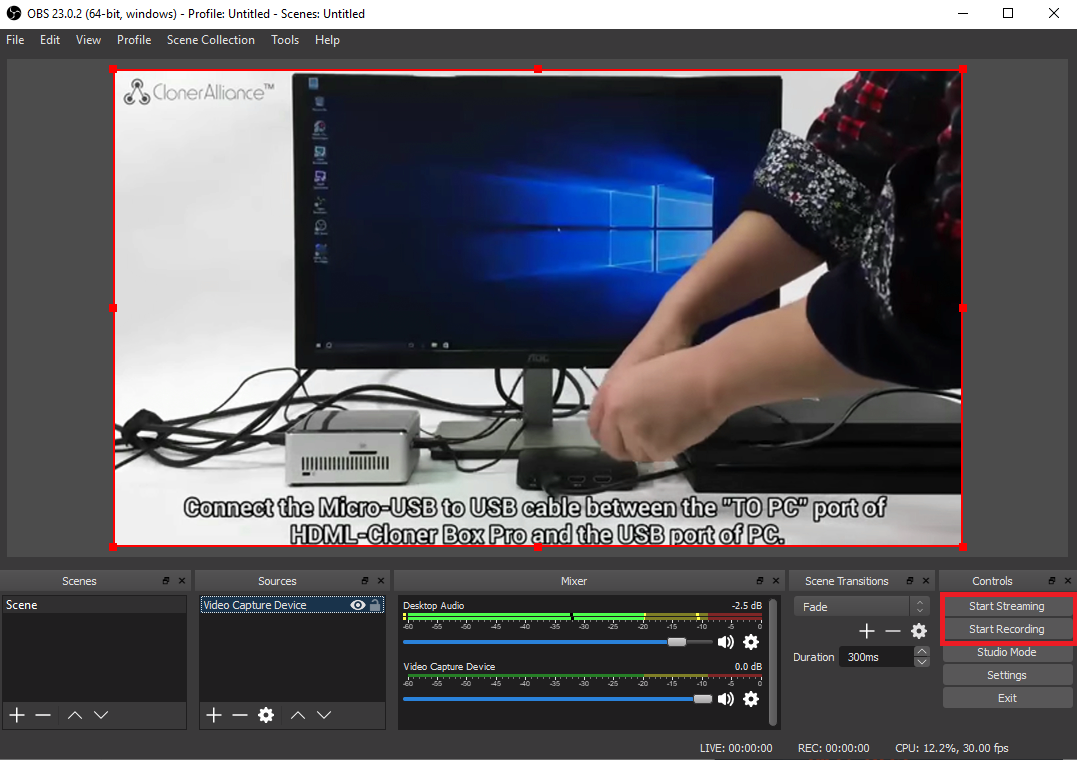 Tip: If you got unsync problem in OBS Studio, please follow the instructions below, you can fix it. If you need further help, just contact our support at: support@cloner-alliance.com. https://www.cloner-alliance.com/help/knowledgebase/why-are-the-video-and-audio-out-sync-while-cloneralliance-flint-lxt-working-with-obs
If you don't need to livestream, you just want to use ClonerAlliance Flint LXT to record your videos. We strongly recommend you to use our bonus software HDML-Cloner Pro Helper.
Install HDML-Cloner Pro Helper
Download HDML-Cloner Pro Helper software from https://www.cloner-alliance.com/hdmicloner-pro-helper.html
Register HDML-Cloner Pro Helper
Please register HDML-Cloner Pro Helper first before using, otherwise it can only be used for 7 days. Please visit https://www.cloner-alliance.com/register to get your code, fill in your product S/N, You will get a registration code directly. If you get trouble in the process, don't be discouraged, just send us a message to support@cloner-alliance.com with your S/N and your order ID. Our support will send you the code directly.
After correct connection, you can see video in HDML-Cloner Pro Helper. You can use it to record the videos anytime.
---