Why are there frame glitches raised when having ClonerAlliance UHD Pro connected? How do I get a cinema-like 4k video?¶
ClonerAlliance UHD Pro records 4K content with their native FPS (between 23-30Hz), allowing you to get a cinema-like viewing experience on your TV. The native FPS of the contents is called Cinematic-FPS.
Films and Television broadcasts are commonly produced at 24fps, in Europe, it is usually 25fps. These various display rates are specific to each type of content and are known as the native FPS.
In most cases, the frame glitches occur because the display FPS of the your source device does not match the native FPS of the 4K content.
To get a cinema-like 4k video, please set your 4K source video to be played in the native format/fps. First, please go to your video player's settings and set the display mode as "Auto Detect"(Or you may select the "4K@24Hz" display mode directly.), some video players may also need you to enable the auto-adjust display refresh rate setting. After having the source video played at 4K@24fps from your source device, ClonerAlliance UHD Pro will be able to output the 4K content at 4K@25fps and record at 4K@24fps.
please make sure the output of your source device is selected to match one of the supported input resolutions in the following chart, ClonerAlliance UHD Pro will pass through and record the videos accordingly.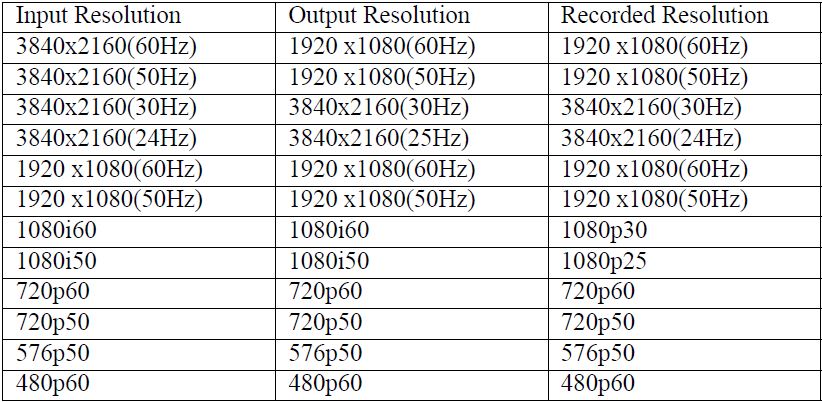 If you want a 60fps recording, please have your video player output set to 4K@60Hz, then ClonerAlliance UHD Pro will output and record the 4K content at 1080p@60fps. Although the recorded video is 1080p@60fps rather than 4K@60fps, this is the most efficient way to get a smooth 60fps video.
If you get into trouble in the process, please let us know your video player device's brand and model number, and we can help you work it out.
Best practice for Cinematic-FPS:
For recording Cinematic-FPS:
Set the TV to cinema or filmmaker mode. Set the display mode of the 4K video player to "auto adjustment" or "4K@24hz/23.97hz". The display option can be found in all 4K video players.
For watching Cinematic-FPS on the smart TVs:
Set the TV to cinema or filmmaker mode. It is recommended to use the built-in media file function of the smart TV to play recorded 4K@24fps MP4 files for the best picture quality.
---